Getting a tattoo is a commitment - and in a world where divorce rates peak over 50%, it's something you need to think about before you say "I do" to the tattoo.
But in all their public-image wisdom, and I'm sure despite the protest of their handlers and agents, some celebrities obviously don't think before they ink.
Here are 5 Celebrity Tattoo Fails that are enough to make anyone cringe and will last a lot longer than the Spears/Alexander union.
Ariana Grande
At the beginning of 2019, the lovely Ms. Grande got inked on the palm of her hand. What Ariana thought were the Japanese characters for "7 Rings" (we can only assume this has some deep personal significance to her) she ended up with the Japanese word "Shichirin" or - directly translated: "Barbeque Grill". EEK!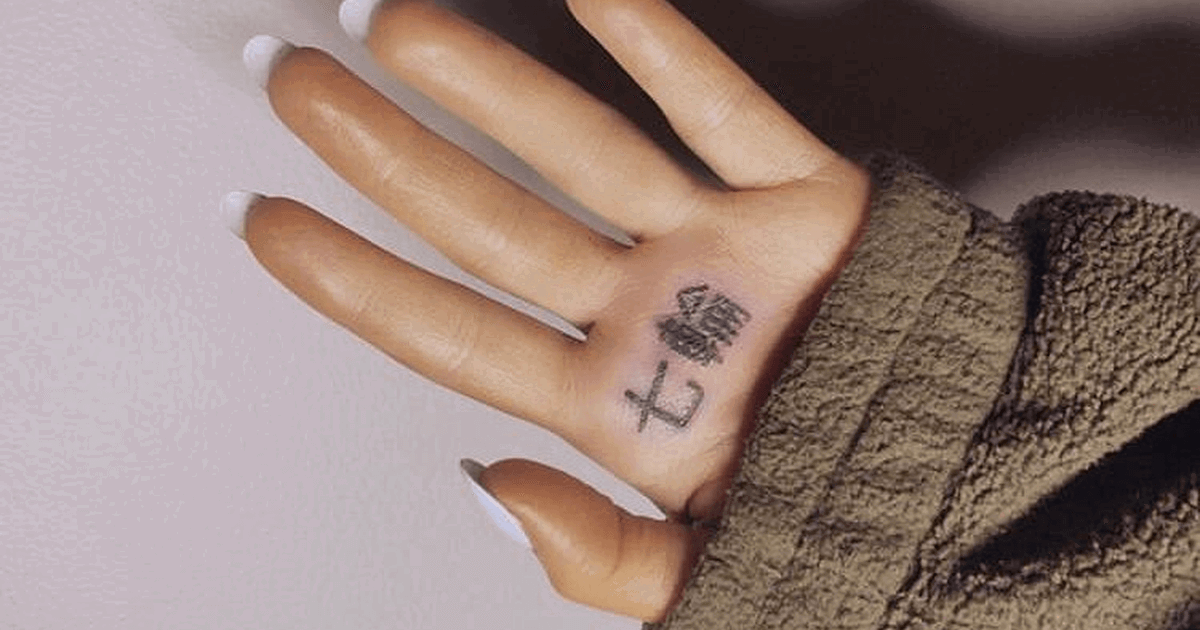 Image Credit: https://mashable.com/article/ariana-grande-7-rings-bbq-grill-tattoo-fail/
Realizing her ink-err, it didn't take Ariana long to get it fixed. Or so she thought. After having another character added, Grande now has "Japanese Barbeque Finger" tattooed on the palm of her hand. Sorry, Ari, Grande Fail-ay.
To get the full story click here.
Megan Fox
While Megan's tattoo, thankfully, is spelled correctly and doesn't reference any Asian cooking methods, the irony is splendid. The Hollywood actress took a line from Shakespeare's King Lear Act V Scene 3 - "We will all laugh at gilded butterflies." The Fox claims it's meant as a bit of an F.U. to Hollywood and to remind herself not to take Tinseltown too seriously. That was all well and good, until she started getting plastic surgery and turned herself into, well, a gilded butterfly. Sorry Megs, we are laughing...at the irony. But it's still a sexy bit of skin-art.
For a more in-depth look at all of The Fox's body-art check out this link.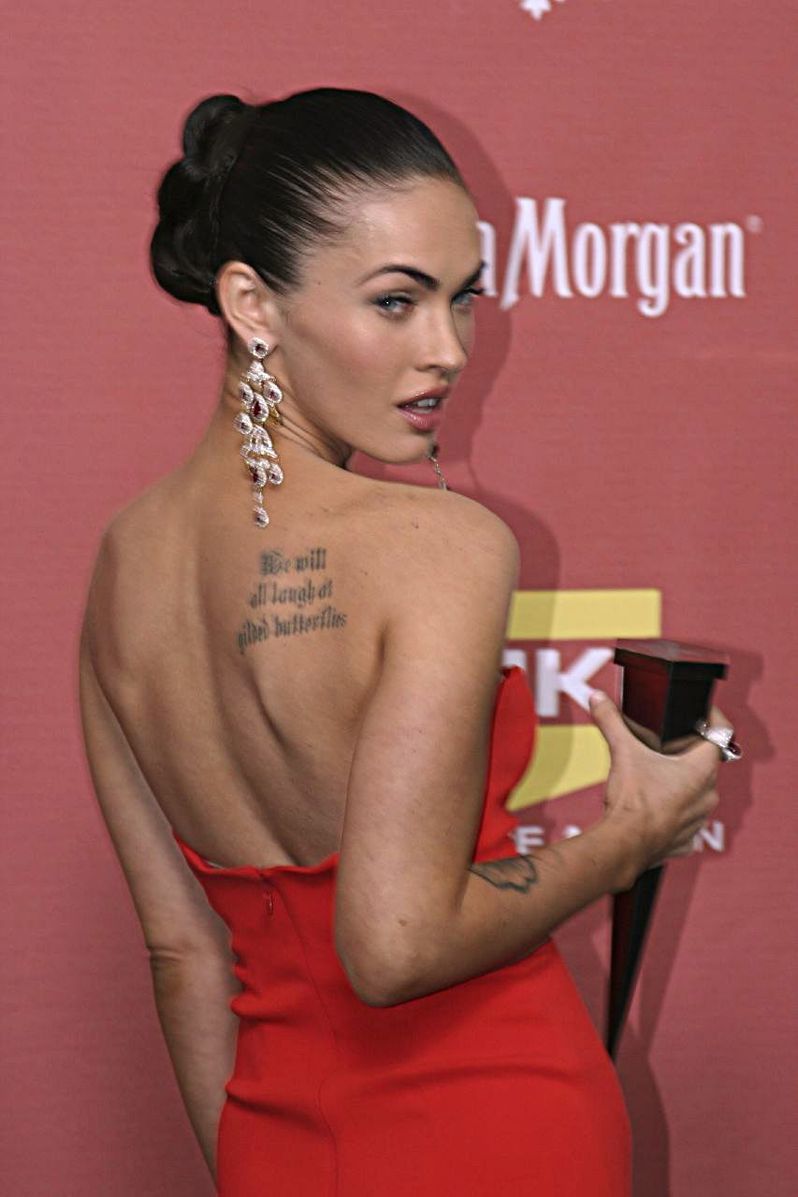 Image credit: http://www.flickr.com/people/44159829@N00 pinguino k
Ed Sheeran
Songwriter and singer Ed Sheeran might think he's a king of his industry since his rise to fame, but that doesn't excuse this tacky tatt. When he first showed off his full chest lion tattoo in 2015, most of his fans thought it was false...a stick-on...maybe even a joke. They were right about what a joke it is, but it's no fake. The lousy lion that looks like it comes from a 5th Grade Art class is all too real. Let's face it, Ed - that tattoo is a joke, but for all the wrong reasons. Don't be surprised if Ed's next single is a song about permanent regrets.
Read what Ed had to say when folks started making comments on his King Of The Jungle tattoo fumble here.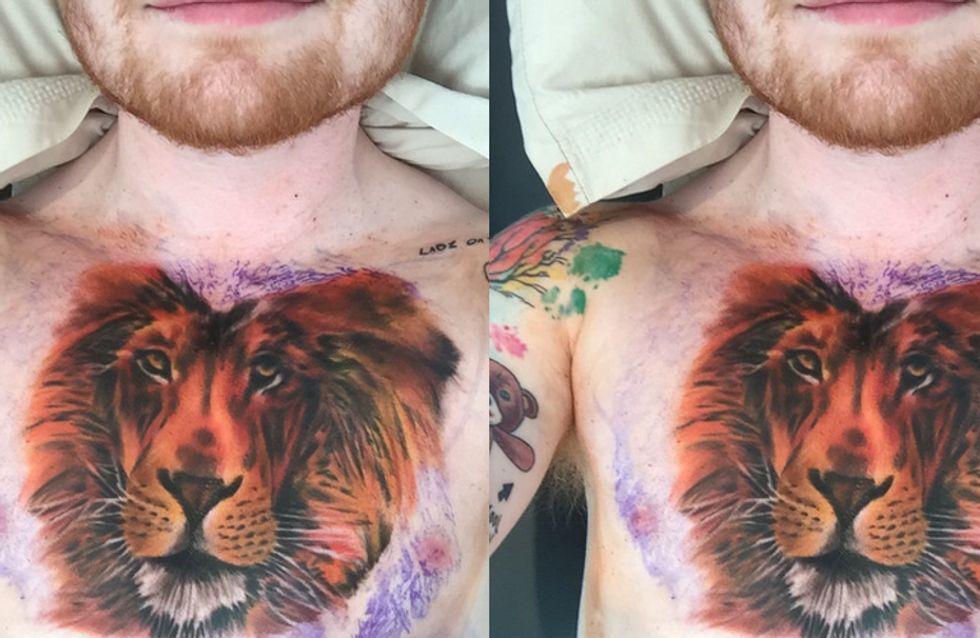 Image Credit: https://www.sofeminine.co.uk/news-celebrities/you-okay-ed-singer-gets-giant-lion-tattoo-on-his-chest-s1521433.html
Lindsey, Lilly & RiRi
I don't know about you, but one of my worst fears is someone copying one of my tattoos. Tattoos are a personal expression of your individuality. To think that someone would destroy that by copying someone else's tattoo makes me cringe. Enter Lindsey Lohan, Lilly Allen, and Rihanna. In 2008, Rihanna got a tasteful "Shhh..." tattooed on the inside of her pointer finger. Not a year later, in 2009, after a night of partying and drinking, Lindsey and Lilly decided they'd go right ahead and copy Rihanna and get the same tattoo...in the same place.
They say the best form of flattery is imitation, but honestly, if I was Rihanna, I'd be adding an "-it" to the end of "Shhh..."
Til Death Do Us Art
Ask anyone what the first thing that comes to mind when you say "bad tattoo ideas," and the majority will respond with: "Someone's name."
There is a legend, in the tattoo world, that says if you get your romantic partner's name (or get matching tattoos), the relationship is doomed. AKA "The Curse of the Name Tattoo." This is some voodoo you do not want to mess with. Unless you're committed to ending the relationship but can't find the courage to do the deed.
To wrap up this 5 Celebrity Tattoo Fails blog, here's a quick list of celebrities who invoked The Curse of the Name Tattoo by inking their (now ex) bae's name.
Pamela Anderson changed her "Tommy" (Lee) tattoo to "Mommy" after they broke up.

Denise Richards got a fairy to cover up the name of her ex-husband "Charlie" (Sheen) after they split up.

Melani Griffith erased Antonio's name from her upper arm heart tattoo using laser-removal when they divorced after 18 years of marriage

Johnny Depp changed his "Winona Forever" to "Wino Forever" after his relationship with Winona Ryder ended (guessing the wine-o helped him through the breakup-o). And if that wasn't enough, after breaking up with Amber Heard, he changed his knuckle tattoo from "Slim" (his nickname for Amber) to "Scum." He later had the anarchy symbol added over the "u" - so now the tattoo says "Scam." Ah, the pirate life, eh?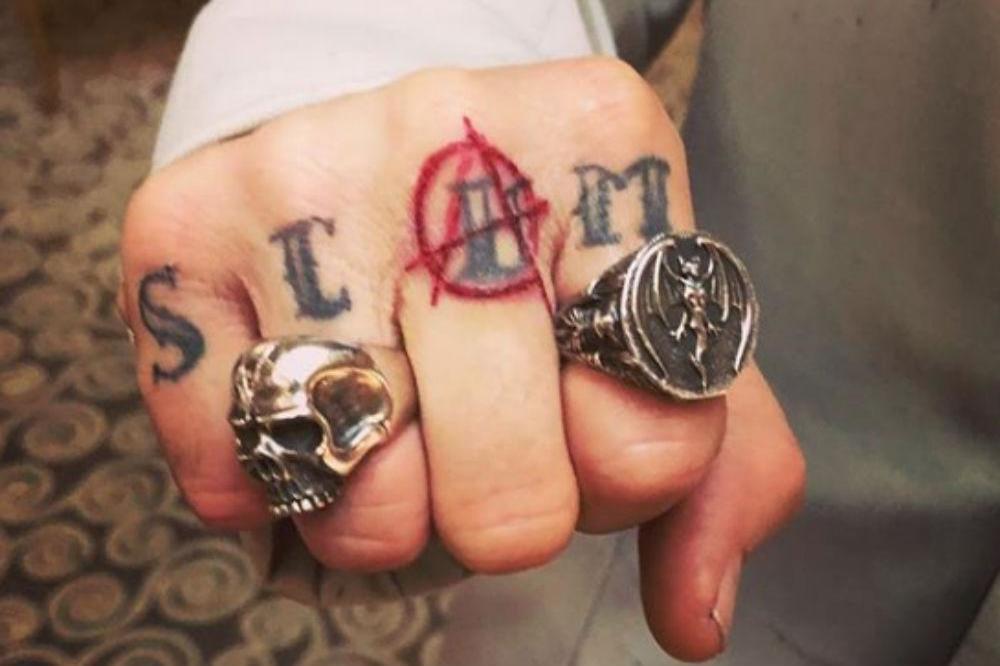 Image Credit: https://www.femalefirst.co.uk/celebrity/johnny-depp-tweaks-amber-heard-scum-tattoo-1152890.html